Take advantage of our remarkable flexibility and arrange a helicopter charter flight for you and your passengers to and from your destination. Travel in style and comfort in one of our safe, modern and reliable helicopters. With no airport queues or traffic jams to worry about, you will arrive fresh and relaxed.
The helicopter is charged at an hourly rate, or part of. This cost can be divided between the number of passengers the helicopter can carry.
To arrange an air charter, simply call free phone 0800 435 448 and we will organise your flight.
If your are looking for inspiration of where to fly to, or indeed would like to see our specific helicopter tours, then please go to Helicopter Scenic Flights and Tours.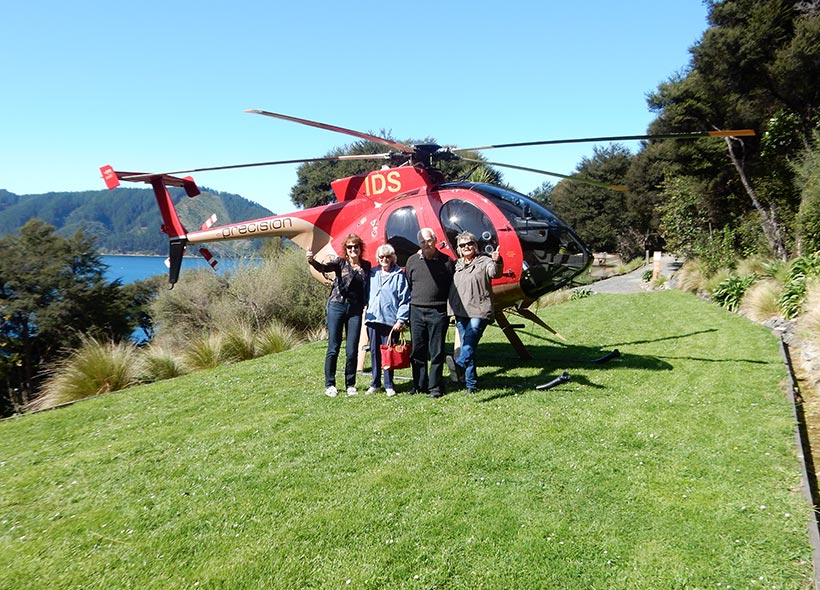 Going for your helicopter flight
If you are new to flying in helicopters, the following information will be useful.
Things to bring with you: sun glasses, camera, sun screen, water.
Although it will be perfectly warm in the helicopter, depending on the weather and time of year, you might need to bring some warm clothing. It can be very warm in one location and cold in another!
Try to arrive at the Helicopter Base approximately 20 minutes before your flight to allow time to meet your pilot and discuss any requirements you might have before your flight departs.
Before you board the aircraft, a Precision Helicopters crew member will provide a comprehensive safety briefing. You will then be assisted into the aircraft and comfortably seated. A headset will be provided which will enable you to easily communicate with the pilot and any other passengers.
Your pilot is very experienced and you are in very safe hands but if you have any concerns, just let him or her know.
On landing, you will again be assisted from the helicopter.
If you are a seasoned flyer, then just sit back, relax and enjoy the ride!
Booking your flight
Booking your flight just couldn't be easier! Choose one of the following methods:
– Free phone 0800 435 448, or
– Email us via sales@precisionhelicopters.nz
Normally no deposit is required unless the booking is for a large group where special arrangements have been made. If the weather isn't suitable on the day, we can either reschedule or cancel the flight – whatever suits you. We charge for actual flight time only.
Weather
Although we can fly in most conditions, the weather has to be good to get the most out of your experience. Should the weather turn poor, we can simply move your flight to a later time or date.
Flight Safety
Before boarding your flight, you will be given a comprehensive safety briefing. If you have any concerns, please discuss these with your pilot who will assist in any way possible.
Safety is paramount to Precision Helicopters. Our helicopters are safe, modern and reliable and maintained by external accredited maintenance providers.
Precision Helicopter pilots are highly experienced. You will be flying in very safe hands! Besides passenger air transport, each pilot is also involved with our commercial and agricultural helicopter based services.