Precision Lifting
Precision Helicopters have performed many contracts where the transportation and lifting of loads into exact positions has been the primary requirement. All Precision Helicopters helicopters are fitted with highly accurate GPS devices enabling us to arrive at specific locations, irrespective of the terrain and weather conditions.
The lifting of all sorts of loads is routine to Precision Helicopters. Often this form of transportation is highly efficient bringing significant cost benefits to our client.
Depending on the nature of the load and where it has to be placed, a suitable long-line and strops are used. If the load has to be placed through tree cover, the line may be in excess of 50 metres.
Our pilots are highly experienced in vertical reference flying and are supported by equally skilled ground crew.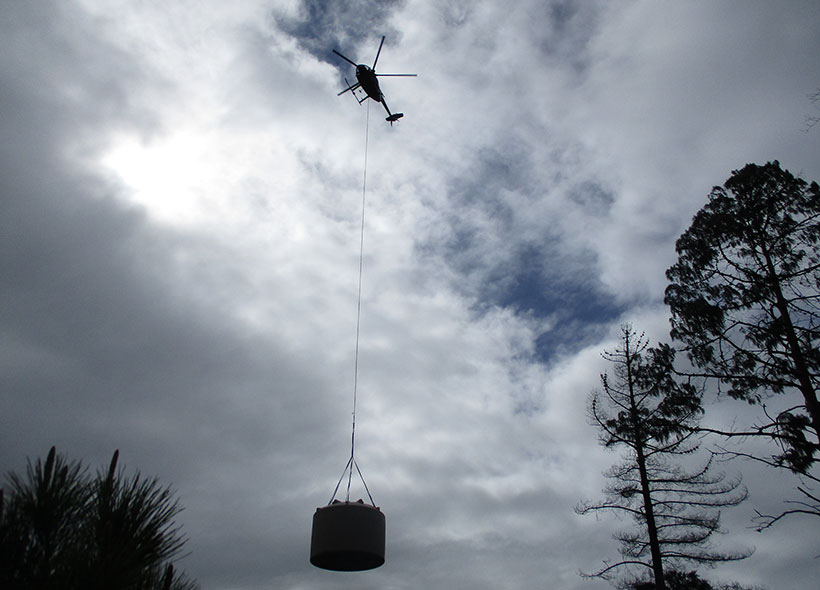 ---
Frost Protection
We can help save vineyards from economic disaster during frost conditions by flying slowly over the crop. During cold and still conditions, the down draught from the helicopter causes the slightly warmer air layered above to circulate amongst the vines, reducing the likelyhood of frost damage. Helicopters are effective for frost protection for up to 50 acres at a time.
Because of the high demand for helicopters, it is advisable to call us well in advance to ensure availability.
---
Helicopter Spraying
Aerial spraying is ideal for application of Pesticides, Insecticides, Weed spraying (including spot spraying) and Top dressing. The reasons to choose a helicopter for aerial spraying are:
Better for the farm…
No soil compaction
No fungal disease spread from paddock to paddock
No production loss from tramping
No damage to crop
Applications not affected by wet ground conditions
Large areas covered in a short time frame
No airstrip required
Other Commercial Work
Monsoon buckets are used to dislodge loose material often allowing digger and personal to work safely in difficult areas.